What are different quell meaning?
Have you ever wondered about the origins and meanings of the words we use every day? Let's explore the meaning of "quell" in depth today. What exactly does this word signify?
Here is a table of the different meanings of the word "quell":
Meaning
Definition
Example
Synonyms
Antonyms
To suppress or put an end to something, especially by force.
The police quelled the riot with tear gas.
quash, suppress, subdue, crush, extinguish, stamp out
allow, permit, tolerate, condone
To quiet or calm something, especially an emotion.
She quenched her fears with a deep breath.
calm, pacify, soothe, allay, assuage, mitigate
agitate, arouse, excite, stir up, exacerbate
To overcome or defeat something.
The army quelled the rebellion.
vanquish, conquer, defeat, subdue, overcome, master
lose, fail, be defeated
Importance of understanding quell meaning
To keep ourselves steady and in harmony, we often need to suppress various circumstances, emotions, and ideas that arise in our everyday existence. Understanding the nuances of quelling can enable us to do this more effectively, without compounding the problem.
Historical significance of the word quell
The word quell originated from Old English and was initially employed in the 1300s.Historically, it was used in the context of battlefields to refer to the suppression of rebellion or unrest. It was also employed to describe the suppression of religious or political dissent.
The Origin of Quell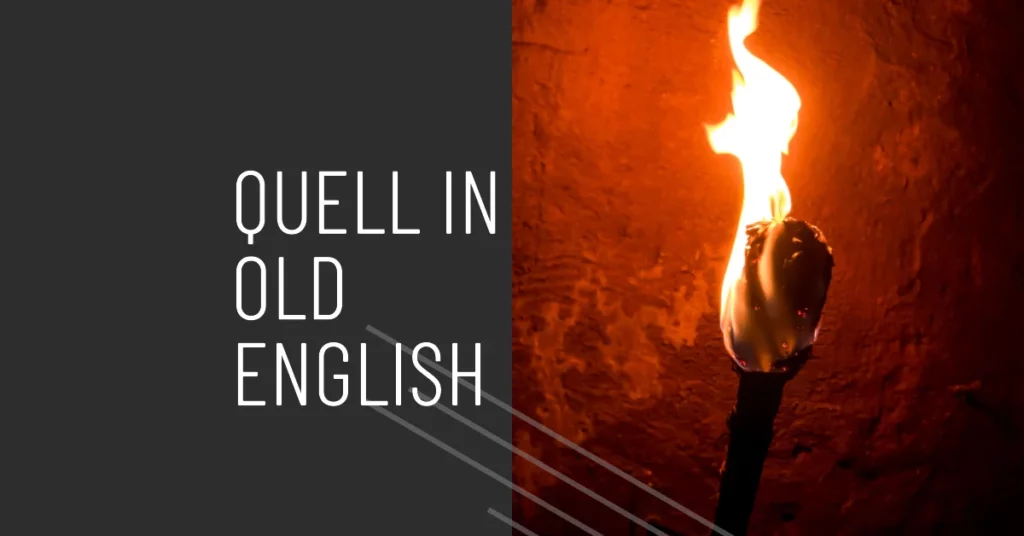 Quell in Old English
The word "quell" has its roots in Old English. It originated from the word "cwellan," which means "to kill or murder."
Quell in Modern English
Over time, the meaning of "quell" has evolved. Today, we often use the word to mean calming down or controlling, not necessarily ending something.
The Various Meanings of Quell
| Usage | Meaning | Example |
| --- | --- | --- |
| Quell as a verb (general) | To suppress or pacify something | "The principal managed to quell the unrest in the school." |
| Quell as a verb (in a physical context) | To put an end to a physical disturbance or a disorder | "The police quelled the riot." |
| Quell as a verb (in an emotional context) | To calm or reduce a strong emotion | "She managed to quell her fears and give the speech." |
| Quell as a verb (in a metaphorical context) | To stop something, especially by using force | "The government quelled the rebellion." |
| Quell as a noun | A forceful suppression or a pacifying act | "The quell of the protest was seen as a victory for the government." |
| Quell in idiomatic expressions | Used in phrases to denote calming or alleviating something | "He took deep breaths to quell his nerves." |
Common definitions of quell
The standard definition of quell is to suppress or calm something, usually a disturbance or rebellion, with force or authority. It is often associate with a violent or forceful approach, although this is not always the case.
Quell as a Verb
In Everyday Language
"Quell" means to calm or pacify a situation. Quelling a rumor can be done by telling the truth. Similarly, a teacher can quell a noisy classroom by asking for quiet.
Quell in Literature
In literature, "quell" can take on a more dramatic tone. It can mean stopping a rebellion or stopping disagreement as a leader.
Quell as a Noun
As a noun, "quell" is less common but still used. It refers to a forceful suppression or a pacifying act.
The Synonyms of Quell
Also Read quell definition
Synonyms for "quell" include suppress, pacify, calm, and subdue. These words mean the same but can be use differently..
The Antonyms of Quell
On the flip side, antonyms of "quell" include incite, provoke, and agitate. These words represent actions that stir up or intensify, rather than calm or suppress.
Quell in Idiomatic Expressions
The word "quell" is also find in idiomatic expressions. For instance, "quell one's fears" means to calm or alleviate one's fears.
The Impact of Quell on Language and Culture
The word "quell" is important in language and culture. "Keep cool" means to stay calm in hard times. People use it in books, politics, and daily talk. It's about not showing strong feelings. Someone who stays calm in tough situations is "level-headed".
Quell in Modern Usage
In modern usage, "quell" continues to be a powerful word. It's use in news reports, literature, and everyday conversation, maintainingits relevance and importance in the English language.
Conclusion
The word "quell" is a fascinating example of how language evolves over time. The word "quell" has undergone a transformation from its violent roots in Old English to a more peaceful connotation in modern times, reflecting societal and cultural changes. It's a reminder of the rich history and depth that every word carries.
Last Updated on July 31, 2023 by
Shahid Maqsood, with an MBA and a Master's in Mass Communications, has 10 years of writing experience. Specializing in news and celebrity coverage, he brings a unique perspective from his love for hunting and camping, difference between. He's passionate about the outdoors, especially hunting and camping. Shahid contributes to websites like dosttrusty.com, distinctionbetweencom and bruitly.com offering insightful articles on news and celebrities. His straightforward, engaging style makes him a trusted source for readers.