Back Quell Pain Relief Tablet : A Comprehensive Review
Are you tired of enduring the persistent discomfort caused by back pain, muscular aches, or inflamed joints? Back pain is a common ailment that affects many people worldwide. One product that aims to provide relief is Back Quell. This article provides a comprehensive review of quell pain reliever, its benefits, usage, and where to buy it.
What is Back Quell?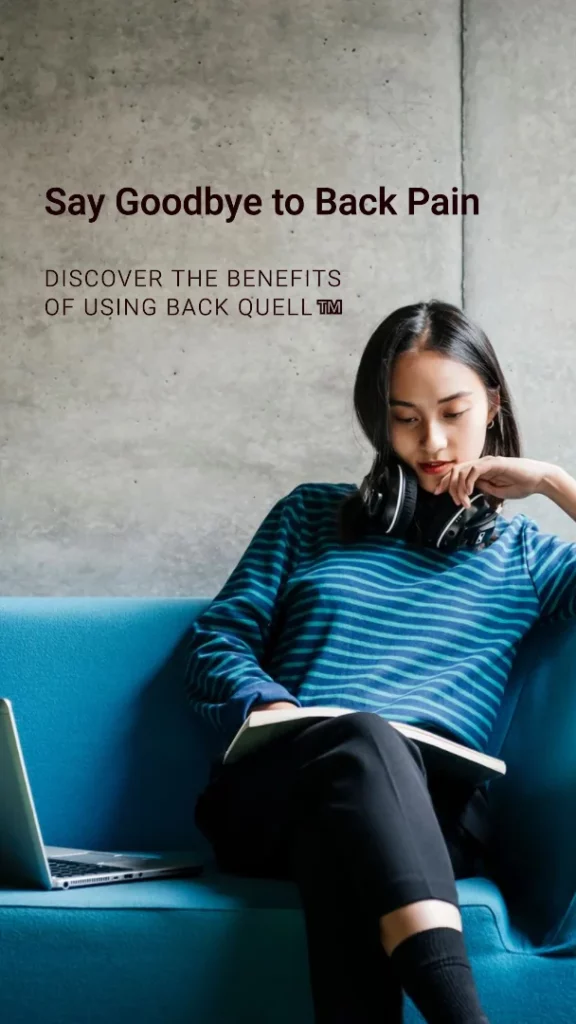 Back Quell is a product designed to provide temporary relief from back pain, muscular aches, and inflamed joints. It contains active ingredients such as Acetaminophen, Aspirin, Caffeine, and Magnesium Salicylate. These ingredients work together to alleviate pain and discomfort.
The Acetaminophen content is precisely measured at 200 mg, ensuring optimal pain relief. Additionally, the Magnesium Salicylate, a powerful NSAID, provides added therapeutic benefits. The total magnesium content in each tablet is 13 mg.
Key Features and Benefits
Effective Pain Relief: It is specifically formulated to provide temporary relief from back pain, muscular aches, and inflamed joints.
Optimal Dosage: Each tablet contains a precisely measured dose of 200 mg of Acetaminophen, ensuring accurate and effective pain relief.
Powerful NSAID: The presence of Magnesium Salicylate, an NSAID, enhances the pain-relieving properties.
Convenient Unit Dose Packaging: Back Quell™ is thoughtfully packaged in tamper-evident, unit dose packets, ensuring easy and convenient usage.
How Does It Work?
This back pain relief tablet works by utilizing the pain-relieving properties of its active ingredients. Acetaminophen and Aspirin are well-known pain relievers, while Caffeine enhances their effects. Magnesium Salicylate, a type of nonsteroidal anti-inflammatory drug (NSAID), helps reduce inflammation that can cause pain.
Acetaminophen: Provides pain relief
Aspirin: Reduces inflammation and provides pain relief
Caffeine: Enhances the effects of Acetaminophen and Aspirin
Magnesium Salicylate: Reduces inflammation
Benefits of Using Back Quell™
Relief from back pain: It targets the source of back pain, providing relief and comfort.
Relief from muscular aches and strains: The active ingredients in Back Quell can help soothe muscular aches and strains.
Convenience: It comes in unit dose, tamper-evident packets, making it easy to use.
Usage and Dosage Instructions
For adults and children aged 12 years and older, the recommended dosage is 2 tablets as needed for pain relief, with a maximum of 8 tablets within a 24-hour period. It is important to adhere to the recommended dosage and not exceed the stated limits unless directed by a medical professional.
| Age Group | Dosage | Maximum Dosage (within 24 hours) |
| --- | --- | --- |
| Adults and children 12+ | Take 2 tablets as needed for pain relief | 8 tablets |
| Children under 12 | Not recommended for children under 12 years old | N/A |
Note: Back Quell™ is not intended for children under 12 years of age. Please consult with a healthcare professional for suitable alternatives and proper dosage instructions for younger individuals.
Safety Precautions and Warnings
To ensure your safety and optimize the effectiveness of Back Quell™, it is essential to be aware of potential warnings and precautions:
Reye's Syndrome:
Children and teenagers who have or are recovering from chickenpox or flu-like symptoms should not use Back Quell™. If there are any behavioral changes accompanied by nausea and vomiting, consult a doctor immediately, as these symptoms could be an early sign of Reye's syndrome, a rare but serious illness.
Allergic Reactions:
Back Quell™ contains salicylates (NSAIDs) that may trigger severe allergic reactions in some individuals. Look out for symptoms such as hives, facial swelling, asthma (wheezing), or shock. If any allergic reaction occurs, discontinue use and seek immediate medical attention.
Liver Warning:
Back Quell™ contains Acetaminophen, and it is crucial to avoid exceeding 4,000 mg within a 24-hour period. Combining Back Quell™ with other drugs containing acetaminophen or consuming three or more alcoholic drinks daily may lead to severe liver damage. Please exercise caution and follow the recommended dosage instructions.
Stomach Bleeding Warning:
As Back Quell™ contains an NSAID, it carries a potential risk of severe stomach bleeding. This risk is higher for individuals who are 60 years of age or older, have a history of stomach ulcers or bleeding problems, take blood thinning (anticoagulant) or steroid drugs, take other drugs containing prescription or nonprescription NSAIDs (such as aspirin, ibuprofen, naproxen, or others), or consume three or more alcoholic drinks daily. Always follow the recommended dosage and duration of usage.
Other Precautions:
Do not use Back Quell™ with any other drug containing acetaminophen (prescription or nonprescription) without consulting a doctor or pharmacist.
Do not use Back Quell™ for more than 10 days for pain relief unless directed by a doctor.
Do not use Back Quell™ for more than 3 days for fever relief unless directed by a doctor.
If you have previously experienced an allergic reaction to any other pain relievers or fever reducers, do not use Back Quell™.
Avoid using Back Quell™ right before or after heart surgery.
If you are currently taking prescription drugs for gout, diabetes, or arthritis, consult a doctor before using Back Quell™.
Additional Information
Product Details: Back Quell™ is available in a package size of 300 tablets (150 x 2's) with the item code 1615587.
Manufacturer: Back Quell™ is manufactured by Medique Products.
Comparison with Other Products: To compare Back Quell™ with other pain relief options or explore additional products, please consult your healthcare provider or refer to reliable sources.
Contact Information: For more information about Back Quell™ or any concerns, please contact the manufacturer directly. Alternatively, reach out to your healthcare provider for professional assistance.
Where to Buy Back Quell
Back Quell can be purchased from various online stores, including Amazon and McKesson. Prices may vary, so it's worth comparing different retailers to find the best deal.
Reviews and Testimonials
Customer reviews and testimonials can provide valuable insights into the effectiveness of it. Many users report experiencing relief from back pain and muscular aches after using the product.
FAQs
What is Back Quell used for?
Back Quell is used for temporary relief of back pain, muscular aches, and inflamed joints.
Is Doan's good for back pain?
Doan's is another product that some people find effective for back pain. However, it's important to consult a healthcare professional before starting any new medication.
Is Tylenol or Advil better for back pain?
Both Tylenol (which contains Acetaminophen) and Advil (which contains Ibuprofen) can be effective for back pain. The best choice depends on the individual and the nature of their pain.
Conclusion
Back Quell is a product that offers temporary relief from back pain, muscular aches, and inflamed joints. With its combination of active ingredients, it targets pain and inflammation, providing comfort and relief. Whether you're dealing with occasional back pain or chronic discomfort, Back Quell may be worth considering.
Last Updated on July 31, 2023 by
Shahid Maqsood, with an MBA and a Master's in Mass Communications, has 10 years of writing experience. Specializing in news and celebrity coverage, he brings a unique perspective from his love for hunting and camping, difference between. He's passionate about the outdoors, especially hunting and camping. Shahid contributes to websites like dosttrusty.com, distinctionbetweencom and bruitly.com offering insightful articles on news and celebrities. His straightforward, engaging style makes him a trusted source for readers.