Travis Ledoyt Net Worth 2023: Personal life, Career and Tribute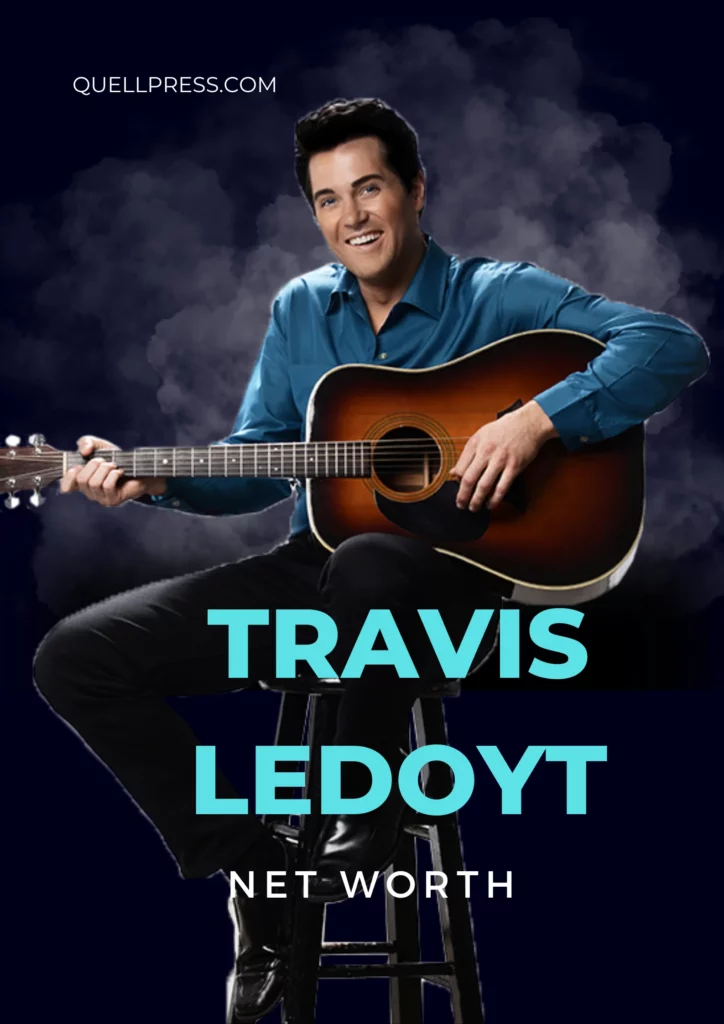 Did You know what is Travis Ledoyt Net Worth in 2023 ? Travis Ledoyt is one of the world's most popular and acclaimed Elvis Presley tribute artists. He bears an uncanny resemblance to Elvis in his younger days and captivates audiences with his renditions of Elvis' hit songs. Here's a look at Travis Ledoyt's background and what he's worth today.
Early Life and Career
Travis Ledoyt was born in 1977 in Greenfield, Tennessee. He was the third of five children in the Ledoyt household. His impish behavior and clever wit provided a good deal of levity and laughter within the family from an early age.
Growing up, Ledoyt was exposed to a broad range of musical styles, which led to formal piano lessons at the age of 9. He attended the University of Tennessee at Martin and graduated in 1999 with a degree in Performing Arts.
Ledoyt's talent was evident at an early age. He started listening to Elvis Presley and singing along to his songs when he was just 10 years old. In high school, he won a talent show with his rendition of "Blue Suede Shoes." After almost 20 years of studying Elvis and getting older, his resemblance to the King became striking.
Career Highlights
Elvis Presley Festival in Tupelo, MS – 5 years
Busch Gardens in Tampa, FL
Hershey Park in Hershey, PA
More than 40 different casinos all across the US including most of the Harrah's properties
More than 30 different Performing Arts Centers across the US
Featured headliner for Royal Caribbean Cruise Lines
Fed Ex National Convention in Memphis – 2 years
International Hot Rod Association National Convention in Louisville, KY – 2 years
Oregon Jamboree in – 2 years
Americana Festival in England
Two multi-city tours of the UK
Early Performances
After college, Ledoyt started performing as an Elvis tribute artist. He opened shows for legends like Jerry Lee Lewis and B.B. King.
In 2003, Ledoyt starred in the musical "The Elvis Story" at The Maxwell C. King Center for the Performing Arts. His show "A Tribute to the King" has made him one of the most popular Elvis impersonators worldwide.
Travis LeDoyt's amazing show at the Riverwind Casino in Norman, OK, on 1/4/2020.
Travis Ledoyt's Big Break
Ledoyt's big break came in 2007 when he was cast as the star of Legends in Concert's live Elvis tribute show in Myrtle Beach.
"This is as close as you'll get to seeing Elvis Presley live in concert," said Dick McVey, producer of Legends in Concert.
Legends in Concert dub Ledoyt the "World's Best Young Elvis." He continues to star in their productions and has taken his show to venues across the globe.
| Year | Milestone |
| --- | --- |
| 1999 | Graduated with a degree in Performing Arts |
| 2003 | Starred in "The Elvis Story" musical |
| 2007 | Cast as the star of Legends in Concert |
| 2020 | Performed at Riverwind Casino, Norman, OK |
Worldwide Performances
Ledoyt has performed internationally on Royal Caribbean cruise ships. He also entertained audiences in Egypt, Brazil, Chile, and Argentina.
In Las Vegas, Ledoyt starred alongside other celebrity tribute artists like Elton John, Rod Stewart, and Michael Jackson. He brought down the house with his Jailhouse Rock finale.
Ledoyt has played Sun Records legends like Jerry Lee Lewis, Johnny Cash, Carl Perkins as part of his musical theater production "Million Dollar Quartet." He's even performed duets with stars like Johnny Rivers.
Worldwide Performances:
| Location | Notable Performances and Events |
| --- | --- |
| Royal Caribbean | Performances on cruise ships |
| Las Vegas | Starred alongside other celebrity tribute artists |
| International | Entertained audiences in Egypt, Brazil, Chile, etc. |
Travis Ledoyt Net Worth
So how much is Travis Ledoyt worth in 2023? While his exact net worth isn't known, Elvis tribute performers can make $30,000 to $100,000 or more per year. Top talents like Ledoyt likely earn in the high six figures or more.
Factors that contribute to Ledoyt's net worth:
Revenue from live performances, theater productions, and tours
Merchandise sales
TV and film appearances
Corporate events and private parties
In addition to a busy performance schedule, Ledoyt has appeared on shows like The Tonight Show . He was featured in the BBC documentary "Looking for the King."
| Show/Event | Year |
| --- | --- |
| The Tonight Show | Featured |
| BBC Documentary | "Looking for the King" |
With his continued popularity and acclaim as one of the best Elvis tribute artists today, Travis Ledoyt has accumulated significant wealth. While an exact figure isn't confirmed, his net worth is estimated to be around $5 million or more.
At just 45 years old, Ledoyt's career is still going strong. As long as the Elvis legend lives on, Travis Ledoyt can continue performing and growing his fortune for years to come
| Age (2023) | Career Status |
| --- | --- |
| 45 | Active and Strong |
Last Updated on September 23, 2023 by
Shahid Maqsood, with an MBA and a Master's in Mass Communications, has 10 years of writing experience. Specializing in news and celebrity coverage, he brings a unique perspective from his love for hunting and camping, difference between. He's passionate about the outdoors, especially hunting and camping. Shahid contributes to websites like dosttrusty.com, distinctionbetweencom and bruitly.com offering insightful articles on news and celebrities. His straightforward, engaging style makes him a trusted source for readers.